Pure + Clean + Handcrafted
We're a woman-owned company passionate about creating products we love and sharing them with you. Our goal is simple: make good-looking, great-smelling, plant-based candles. Candles that lift your mood and energize your spirit. Candles that you feel good about burning in your home and gifting to your friends, because they are made from the best clean ingredients and crafted by hand. Candles that connect you to people, places, and memories in your heart. They look like candles. They burn like candles. But they're so much more than candles.
Holiday
Balsam Fir

White Christmas

Winter Woods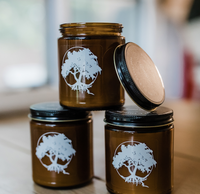 Southern-Inspired Favorites
Your favorite scents and styles from our signature collections.
Shop the South